I first saw "horsehair p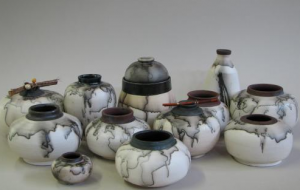 ots" in Colorado Springs, Colorado, and now wish I would have bought one.  You also see them in New Mexico quite frequently.  I was surprised that they really are made with horse hairs, giving them a marble-like appearance.  At first, you might think these pots were made by Native Americans for 100s of years, but in fact, the process was created in the 1980s, when a long hair fell against the pot, leaving an interesting singe mark of burned carbon on the clay surface.
These horsehair pots range in height from 1 1/2″ (small one on front left) to 6 1/4″ (lidded jar in middle). The black ring around the top is actually a black raku glaze.
The horse hairs form the squigly lines on the white clay body. When the horse hair burns into the clay body, in some instances, the smoke from the burning raises and provides a smoke effect.
The pots shown here are from this studio:  http://www.windblownstudio.com/horsehair.htm